Inner Mongolian city aims to become top travel spot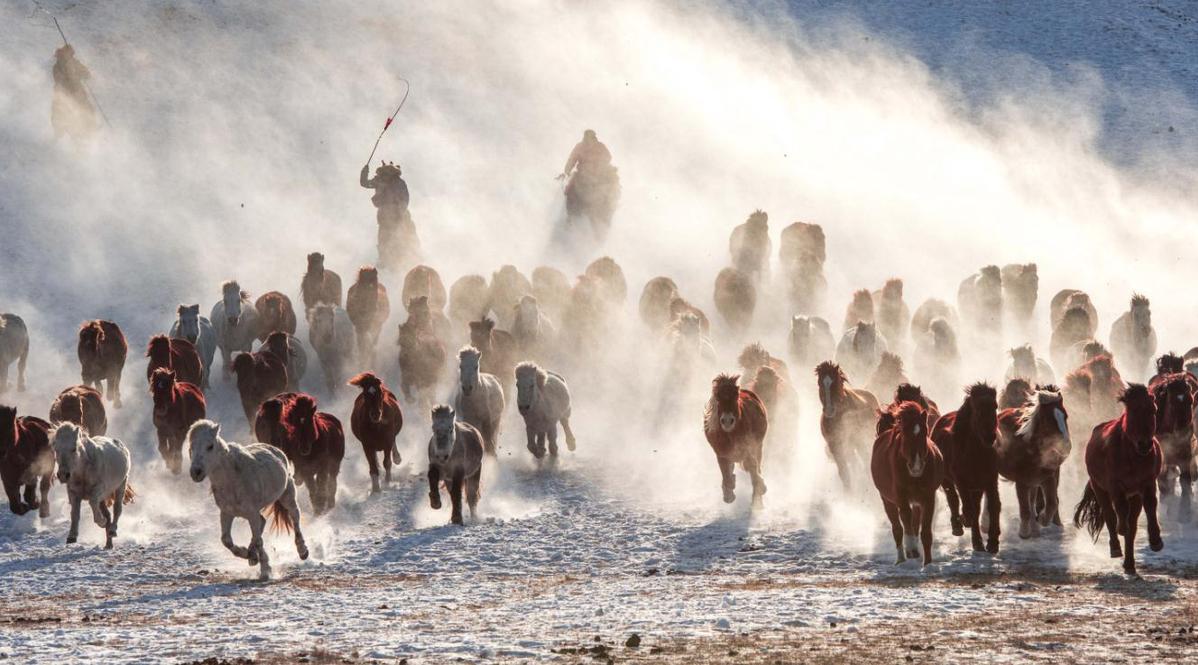 Herdsmen train horses on a snowfield in Chifeng, the Inner Mongolia autonomous region. [Photo/Xinhua]
Chifeng, located in the southeastern part of North China's Inner Mongolia autonomous region and an important city along the ancient Silk Road, is aiming to become a top traveling spot for grassland self-driving tours and an international tourism destination, by integrating its unique culture and tourism resources.
It boasts distinctive traveling resources such as grasslands, lakes, deserts, forests, rock features and red mountains.
In late January, a group of enterprises signed cooperation agreements with the local government of Inner Mongolia, with investments worth 20 billion yuan ($2.96 billion). Hebei province-based RiseS-un Real Estate Development Co Ltd is investing the bulk of the capital, contributing 16 billion yuan.
The investment will help to establish more attractive scenic spots in the region, build infrastructure, create marketing material, and better integrate the tourism resources of Beijing, Hebei and Inner Mongolia for self-driving tours.
"The local government will invest more money in improving the infrastructure of Inner Mongolia, including building roads, campsites, service areas, and signal systems. A self-driving route that starts from Beijing, passes by Chengde in Hebei province, and arrives at Chifeng would be a nice schedule for a weekend getaway," said Yang Guang, deputy director of the culture and tourism bureau of Chifeng.
The province is known for its expansive grasslands, and is a popular tourist destination in the summer. But Tang noted that Chifeng and the whole of Inner Mongolia both "have rich winter tourism resources" too.
"Mylin Valley ski resort in Chifeng, which is 300 kilometers from Beijing, serves as a backup ski field for the Beijing 2022 Winter Olympic Games… Visitors can experience ice and snow sports, desert crossing, hot springs, folk customs and winter photography," he said.
In 2018, 130.4 million trips were made to Inner Mongolia, up 12 percent over the previous year. The region netted total revenues of 401.1 billion yuan from the tourism sector, up 16.6 percent year-on-year, according to the local government.
Last year, foreign visitors made 1.88 million trips to the region, up 1.72 percent year-on-year. They created total revenues of $1.27 billion, growing 2.13 percent over the earlier year. Among the visitors, most come from South Korea, Japan and Southeast Asian countries.
"Chifeng stands as an important node city of the north and south routes of the grassland Silk Road since ancient times. It connected the Inner Mongolia grassland and the Eurasian continent," said Bai Changhong, dean of the Business School of Nankai University.
"By further promoting its tourism resources, the region aims to attract more visitors and strengthen its cooperation with other economies involved in the Belt and Road Initiative," Bai said.
(Source_title:Inner Mongolian city aims to become top travel spot)