Wine importers experience shaky start in China at the turn of the year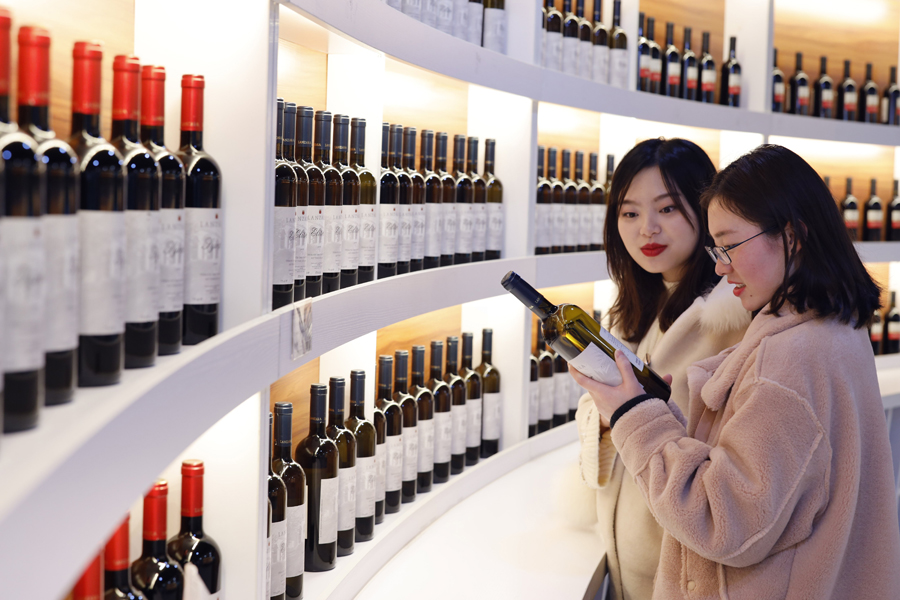 Consumers choose red wine at the Chongqing International Exhibition and Trading Center in January. [Photo/Xinhua]
Imported wines suffered a decline in China at the turn of the year, hampered by fierce market-competition after continuous rapid growth in the previous years.
Yet, experts predicted overall growth in the years ahead despite the adjustment in late 2018.
Wines imported from France, Spain, Australia and many other countries saw a slide in total import values.
In 2018, the value of French wines imported to China totaled $1 billion, down 8.75 percent over 2017. The value of imported Australian wines reached $703 million, falling 3.51 percent over a year earlier, according to data provided by market consultancy ASKCI Consulting Co.
Last year, the value of imported Italian wines totaled $156 million, down 3.53 percent from 2017, and the value of imported Spanish wines came in at $155 million, dropping 20.13 percent from 2017.
But the value of Chilean wines China imported reached $344 million, up 4.5 percent over 2017.
By 2021, China is expected to replace the United Kingdom as the second-largest wine consumption market after the United States, according to projections from wine and spirits analytics firm IWSR. The firm also predicted that this year, the total value of imported wines will grow 8 percent over last year.
"The overall Chinese market might lose some short-term steam, due to the current global political and economic woes, as well as the supply surplus that many distributors are experiencing, but overall growth in the next few years is foreseeable. Growth will slow but continue," said Ryan Christianson, owner of Xanthos Wines, a winery in Napa Valley, California.
"Chile is growing well in the market, due to a good price point and customer preference. For Chinese consumers, Chilean wines are highly cost-effective. In the past few years, Chilean producers have also reacted well to consumers' preference, such as introducing good design and packaging options," he said.
"Some different countries will grow much more quickly than others that have historically dominated the market. For example, I expect French wines to retract further, just based on the amount of market share they currently hold. This is due to consumers' interest in new things."
(Source_title:Wine importers experience shaky start to 2019)