Death toll reaches 95 in Mexico pipeline explosion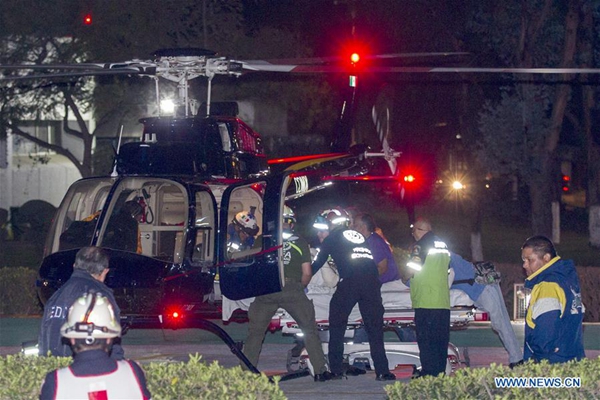 Paramedics move an injured person onto a helicopter after a pipeline explosion in the municipality of Tlahuelilpan, Hidalgo state, Mexico, Jan. 18, 2019. [Photo/Xinhua]
The number of people killed in a fuel pipeline explosion on Jan. 18 in the central state of Hidalgo increased to 95, the Mexican government said Wednesday.
It was announced by Minister of Health Jorge Alcocer at the morning press conference accompanied by Mexican President Andres Manuel Lopez Obrador.
"44 patients remain under care. Six of them are being treated in hospitals in Hidalgo, seven in the state of Mexico and 31 in Mexico City," added Jorge Alcocer.
The explosion and an ensuing blaze occurred at a pipeline spot in the community of San Primitivo in the municipality of Tlahuelilpan at around 7:00 p.m. local time (0100 GMT) on Friday.
According to the local government, between 600 and 800 people gathered at the site to collect leaked fuel with containers when the explosion took place.
Authorities said that the pipeline leakage was illegally tapped by fuel thieves, a problem that cost the country some 3 billion U.S. dollars last year.
(Source_title:Death toll reaches 95 in Mexico pipeline explosion)