Runner nears Pole-to-Pole trek finish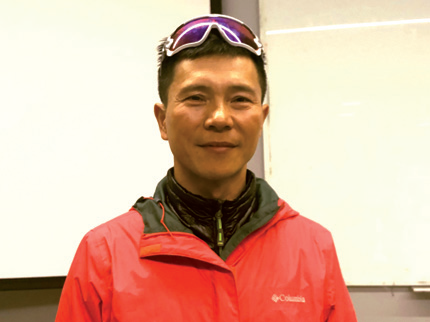 Chinese ultrarunner Bai Bin
After traversing the varied terrain of South America and the tropical rainforests of Central America, Chinese ultrarunner Bai Bin has arrived in bustling California.
Bai, who just turned 49, is one step closer to completing his epic challenge to run from the South Pole to the North Pole, a distance of approximately 24,000 kilometers, or more than 14,900 miles.
Starting from the Great Wall Station of China in Antarctica on March 1, 2018, he has crossed 12 countries and covered more than 17,000 kilometers in 307 days.
The finish line is expected to be Fairbanks, Alaska, the largest city close to the Arctic Circle, though the route may be changed due to weather and other factors.
Dubbed "China's Forrest Gump" by Chinese media, Bai said that he did have something in common with Tom Hanks' movie character – "running forward with a strong will".
"But I prefer to be known as China's Bai Bin. I want to show the Americans and the world the beauty of the endurance of Chinese people," said Bai. "In the field of ultrarunning, China lags many years behind."
The idea of running from Antarctica to the Arctic occurred to Bai when he was jogging along the ancient Chinese Silk Road in 2011. He completed a distance of more than 10,000 km, spanning western China, Central Asia and Europe in just 150 days.
"I said to myself: This is not my level. I should run around the world. Then I checked a globe and found this complete route from the South Pole to the North Pole," said Bai.
The route will take him to 65 cities in 13 countries — Chile, Argentina, Peru, Ecuador, Columbia, Panama, Costa Rica, Nicaragua, Honduras, Guatemala, Mexico, the US and Canada. He mostly runs on the west coasts of those countries.
Bai had expected to finish the journey in 300 days based on his experience with the Silk Road run. However, he underestimated the natural conditions of the Americas.
Gale-force winds, blizzards, rainstorms, heat waves, high altitudes and ultraviolet radiation have greatly impeded his schedule.
"In Argentina, I ran against a strong wind for over 40 days. In Central America, it was so hot that I was all in sweat whenever I moved, let alone run," said Bai.
When running through the tropical rainforest, his feet got infected and he had to stay in the hospital for three days. "I once doubted myself if I could finish it, thinking when I would fall down," he said.
Bai even was kidnapped by what he described as a drug cartel in Mexico. Fortunately, he was freed unharmed after four hours.
Because of the unexpected difficulties, he expected to take 80 more days than originally planned to reach the finish line.
"I tried not to think of the days. I just do my best to finish the job," he said.
Every day, he gets up around 6 am. After breakfast, he starts running until 9 pm. Then he receives an hour of physical therapy. He has two teams traveling with him by car to ensure safety and logistics, such as booking lodgings and preparing meals.
His record is running 90 km a day, almost 56 miles, more than two marathons.
"Many people asked me how I cope with loneliness. You don't feel lonely when you love what you do," Bai said.
(Source_title:Runner nears Pole-to-Pole trek finish)