Sino-Spanish links get new lease on life, turbocharged by initiative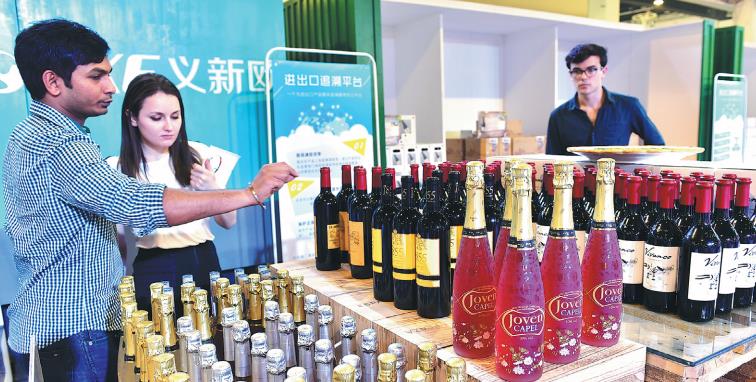 Spanish wines are exhibited at a trade show in Yiwu, Zhejiang province. LYU BIN / FOR CHINA DAILY
China-proposed Belt and Road paving way for profound transformation of ancient trade, cultural relations
After a solid day's work at Chinese e-commerce giant Alibaba, Guillermo Ruiz records a Spanish audio lesson for his 60,000 Chinese followers online. A few kilometers away at Madrid airport, Chinese tourist Liu Jie receives a tax refund for purchases through a Chinese mobile application.
Nothing exceptional here: the interconnection between Spanish and Chinese societies has undoubtedly gone way beyond what Diego de Pantoja could have imagined four centuries ago when the famed Spanish Jesuit and missionary to China dedicated his life to exchanges between the two cultures through the Silk Road.
Today, that ancient trade route is being vigorously renewed through the Belt and Road Initiative, strengthening ties between China and Spain in all sorts of new ways and in new areas.
China's Foreign Minister Wang Yi on May 16 started a nine-day round of official visits to France, Spain, Portugal and Argentina.
This year marks the 45th anniversary of the establishment of diplomatic relations between China and Spain as well as the 13th anniversary of their comprehensive strategic partnership.
Wang's visit to Spain in May to celebrated those very ties.
In Madrid, Wang held talks with King Felipe VI, Prime Minister Mariano Rajoy and his Spanish counterpart, Foreign Minister Alfonso Dastis. They discussed issues such as strengthening cooperation within the framework of the Belt and Road Initiative proposed by China in 2013.
Tian Delong, a researcher at the Chinese Academy of Social Sciences' Institute of European Studies, said the two countries have strengthened their mutual political trust in recent years and promoted economic, trade and tourism cooperation, as well as cultural exchanges.
"Spain has become an important investment destination for China in Europe," Tian added.
China has also become Spain's largest non-EU trading partner. Bilateral trade volumes rose from $12 million in 1973 to a record $30.9 billion in 2017.
New opportunities
Prime Minister Rajoy attended the Belt and Road Forum for International Cooperation held in Beijing in May 2017. He spoke highly of the initiative, saying it has a significant impact on regional economy as well as cultural exchanges along its routes, by promoting cooperation.
He noted it is important especially for businesses "because this is about building land and maritime infrastructure that helps unite the different peoples of the world and improve trade."
In this sense, Spain was among the first beneficiaries. In November 2014, after a 20-hour trip, the first Yixin'ou cargo train arrived in Madrid from Yiwu in eastern China, passing through Kazakhstan, Russia, Belarus, Poland, Germany and France.
Data has shown that Spanish exports to Yiwu have increased by more than 300 percent, thanks to the cargo train service.
Chang Shiru, director of the Foundation of the Confucius Institute of Barcelona, believes that increased cultural exchanges have helped consolidate the basis for Spain-China commercial relations.
He cited the fact that a large number of Chinese language learners in Spain choose to take related linguistic exams, adding that "some of them learn Chinese in order to know more about China, but many people especially the young, learn it for a better future in their careers."
Alberto Carnero, Spain's ambassador to China, said the Belt and Road Initiative represents a great opportunity for a Europe that is increasingly concerned about a rise in trade protectionism.
The initiative has "renewed Europe's interest in China, and is seen as an opportunity to have more connectivity, more access to markets in one direction and another, more openness, and also to have a more balanced relationship," the diplomat said.
Tian said he expected competition in some areas between China and Spain since the two are less economically complementary due to similar industrial structures. However, "the Belt and Road Initiative can help turn competition into opportunities for cooperation if they explore new models of collaboration," he said.
Tian suggested that they work together to find third-party markets as well as building logistics centers and e-commerce platforms in Spain.
(Source_title:Sino-Spanish links get new lease on life, turbocharged by initiative)