Conference calls for prioritizing children in poverty reduction
The 6th International Conference on Poverty Reduction and Early Child Development was held in Beijing from Nov. 5 to 6 to promote international exchanges and cooperation on early child development, an integral part of global poverty reduction.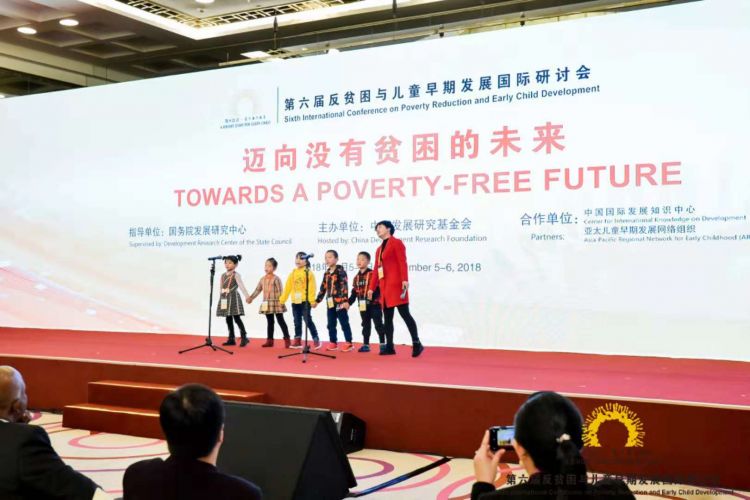 A teacher and five children from a village kindergarten in Haidong, Qinghai province sing a song at the 6th International Conference on Poverty Reduction and Early Child Development held in Beijing, Nov. 5, 2018. [Photo courtesy of China Development Research Foundation]
With the theme "Towards a Poverty-free Future", the event brought together about 300 participants from governments, academia, international organizations, the business community and civil society to discuss subjects concerning different stages of a child's life, such as parenting models, nutrition interventions and preschool education.
Li Bin, vice chairman of Chinese People's Political Consultative Conference, said at the opening of the conference that a central contributing factor of poverty is insufficient investment in the early stages of childhood, the most vulnerable group in society.
The 2018 Global Multidimensional Poverty Index released by United Nations Development Programme and Oxford University shows that more than half of all children under the age of 18 live in extreme or moderate poverty in emerging and developing countries.
In high-income countries, one in five children lives in relative income poverty and an average of one in eight faces food insecurity, according to a Report Card issued by the United Nations International Children's Emergency Fund last year.
Over the past four decades, China has lifted more than 700 million people out of poverty, accounting for over 70 percent of global poverty reduction.
The development-oriented poverty-reduction approach has played an essential role in delivering this achievement, Li Bin said, adding that China has been focusing on improving the capabilities of the impoverished to develop independently to stop poverty being passed on to further generations.
She said that China issued a national plan for child development in poverty-stricken areas in 2014, and subsequently carried out a series of targeted policies in education, health care and other fields.
According to Li, more than 37 million students in China's deprived rural areas have improved their nutrition while nearly 6 million infants aged 6 to 24 months enjoy free "nutrition sachets".
Li Wei, chairman of the China Development Research Foundation (CDRF), said that the "Village Early Education Centers" (VEECs) project initiated by CDRF in 2009 won this year's WISE (the World Innovation Summit for Education) award for offering preschool education to children aged 3 to 6 in underdeveloped counties in central and western China.
Statistics provided by the CDRF show that by August 2017, over 1,800 village preschools had been established in 18 counties of nine provinces in China, with over 45,000 children receiving early education at VEECs.
Despite the progress in early child development and poverty reduction, both Li Bin and Li Wei noted the challenges China is still facing in achieving the goal of eliminating extreme poverty by 2020.
Li Wei said that there is a growing trend of intergenerational transmission of poverty in China, with most of the remaining households unable to provide good nutrition, education and health care for next generations.
Ensuring high quality education and health care services for all children in poverty-stricken areas holds the key to winning the battle against poverty, contends Li Bin, adding that China is willing to work with other countries to safeguard the interests and enhance the welfare of children.
The conference was sponsored by the Development Research Center of the State Council and hosted by the CDRF. It had been held five times between 2010 and 2016.
(Source_title:Conference calls for prioritizing children in poverty reduction)