Hyatt eyes major expansion across China from Beijing to Shanghai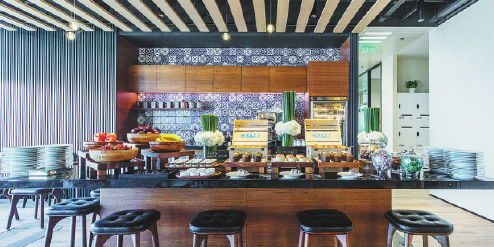 Hyatt has relocated the headquarters for its operations across China from Beijing to Shanghai. The company plans to double its presence in the country. [Photo/China Daily]
Over next four years, hotel and resort company expects to add an extra 22,000 rooms, 21,000 jobs
Expansion and development in China is among the top priorities of Hyatt Hotels Corp, which is making every effort to meet the requirements of local customers, according to the company's new senior executive.
Because of the growth potential, no region is more important to Hyatt's business now and for the foreseeable future, said Stephen Ho, the new president of Hyatt Hotels and Resorts' global operations in Greater China.
According to the hospitality group, Hyatt has a total of 61 hotels on the Chinese mainland, as well as China's Taiwan, Hong Kong and Macao, accounting for 10 percent of the total number of its properties.
Among them is Grand Hyatt Xi'an in Shaanxi province. The hotel opened in 2016 in Xi'an, which was a major trading hub of the ancient Silk Road 2,000 years ago and is set for the same important role under the Belt and Road Initiative.
"To date, Hyatt has 1.2 million members in the Asia-Pacific region, including 500,000 Chinese members," Ho said. But considering the country's large population, "there is still much room for growth."
In fact, he said, Hyatt expects the annual growth in business travels in China over the next 10 years to reach up to 9.5 percent.
"We hope to establish a firm relationship with Chinese business travelers so that they will trust and choose Hyatt in their international trips," Ho said.
With that kind of growth in mind, the hotel group plans to double Hyatt's presence in China in the next four years, adding 22,000 rooms and creating more than 21,000 jobs in the country.
To achieve the target, Hyatt has established strategic partnerships with Chinese high quality hotel groups. A recent example was Hyatt signing an agreement with Minyoun hotel in February.
Based in Chengdu, Sichuan province, Minyoun group has become the first official third-party operator for Hyatt Place and Hyatt House.
More than 50 new Hyatt Place and Hyatt House hotels are expected to be launched in the next five years, according to the agreement.
The cooperation aims to attract more potential consumers and enable them to learn about the Hyatt brand through the local hotels, according to Ho.
Because Chinese customers are accustomed to making reservations and shopping via mobile phones, Hyatt has focused on reaching out to customers through messages on the mobile internet, after analyzing their income, ages and travel preference.
In the meantime, Hyatt launched its flagship store with China's online travel service platform Ctrip as a complement to Hyatt's official website.
To better localize in the market, Hyatt is also making an effort to enhance its choices of room types, brand standards and the reputation of its food and beverage services in China.
(Source_title: Hyatt eyes major expansion in China )