Turkey demonstrates archery skills in Beijing exhibition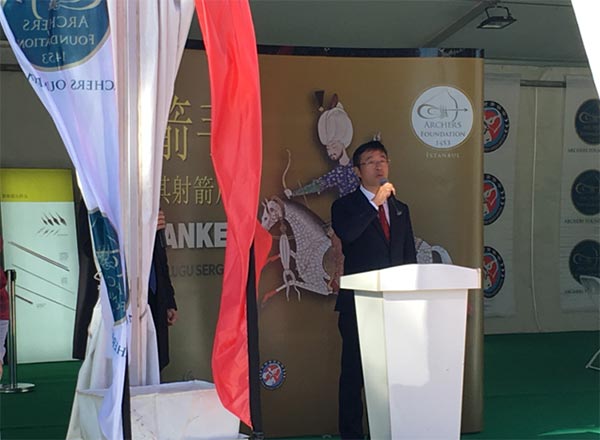 Liang Chun, chairman of the Chinese Archery Association, delivered a speech at the opening ceremony. [Photo provided to China Daily]
A Turkish archery exhibition is currently underway at the Beijing Olympic Park since Oct 29. The event, as part of the campaign for Turkey Tourism Year in China, is organized by the Istanbul Archers Foundation and the Chinese Archery Association.
The exhibition, which will last 10 days, is expected to demonstrate the history of archery in Turkey, with archery knowledge and skills promoted in the forms of collection display and interactive experience.
Liang Chun, chairman of the Chinese Archery Association, Necmettin Erdogan, president of the World Ethnosport Confederation, Haydar Yıldız, chief advisor to the Turkish president, Seref Ates, president of the Yunus Emre Institute in Turkey, as well as Abdulkadir Onen, Turkey's ambassador to China, attended and addressed the opening ceremony.
Through real pieces and images, this exhibition not only shows the bows and arrows of diversified forms and for different purposes in Turkey, but also the importance of archery in the development of Turkish civilization.
(Source_title:Turkey demonstrates archery skills in Beijing)