Greek ferry evacuated after fire incident, no injuries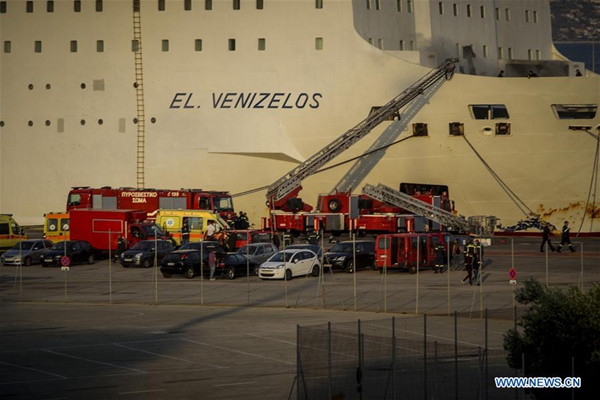 Fire trucks are seen beside the ferry Eleftherios Venizelos at Piraeus port in Piraeus, Greece, Aug. 29, 2018. [Photo/Xinhua]
A Greek ferry, which had reported fire at the garage while sailing to Crete island on early Wednesday, docked at Piraeus port with no injuries, Greek authorities announced.
The fire was contained, and the passengers who spent four hours on the decks wearing lifejackets amid smoke disembarked from the ship shortly after sunrise.
Travelers who were welcomed by anxious relatives were accommodated at local hotels until a replacement ferry will sail to Crete.
The causes of the incident are investigated.
According to early information from the shipping ministry, the alarm went off after midnight as "Eleftherios Venizelos" which had departed from Piraeus port late Tuesday with 875 passengers and 141 crew members on board was sailing near the island of Hydra.
Konstantinos Stogiannis, a retired travel agent, was on board the ferry with his 9-year-old grandson in a group of 45 people.
"The people reacted very well. They led us all up to the deck, running to help us. They were great. Perfect," he said as he was waiting to find out whether one of the buses of his family business was damaged in the fire.
The ferry was also carrying 80 trucks and 152 smaller vehicles.
Travelers got worried when they heard the captain asking them to put on life jackets, but there was no panic, Stogiannis noted.
"Fear did not prevail, there was no panic. People explained to us that boats were ready for evacuation according to standard maritime procedures in case we need them so there will be no panic," he said.
"The most pleasant fact is that all people, all travelers were evacuated and there is no safety problem now," Fire Brigade Chief Vasilios Mattheopoulos explained.
(Source_title:Greek ferry evacuated after fire incident, no injuries)