Chinese household appliance brands cast hopeful eye to Latin America
Chinese household appliances attract many local agents at Brazil Expo/Photo by Zhang Yuannan from People's Daily
Chinese household electronics and appliances were well received at a recent brand show in Sao Paulo, Brazil, which targeted the Latin American market.
About 120 Chinese enterprises participated in the fifth China Home Appliances & Electronics Brand Show organized by China's Ministry of Commerce. Domestic brands, such as large Chinese home-appliance brand Galanz and drone maker DJI, showcased products at the event.
Chinese brands have been increasingly drawn to the Brazilian market, as the country's economy continues to recover and consumer spending shows signs of picking up, while Chinese brands are becoming more popular among Latin American countries owing to enhanced technological research and development as well as brand marketing strategies.
China has ushered into a smart manufacturing era. In recent years, Chinese enterprises have paid more attention to intellectual property rights, increased product research and development and promoted the development of high-end products.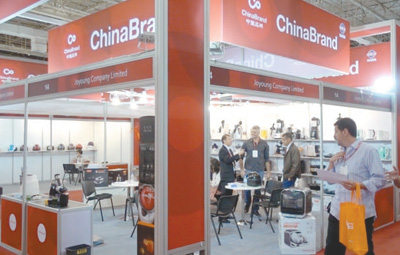 In Latin America, Chinese manufacturing used to be labeled as crude, said Edward, a Brazilian distributor of DJI and a participant of the expo. But now, he added, Chinese products such as DJI drones, with core technologies making it hard for peers to match, amaze people in Latin America.
Chinese brands make products that are of good quality, but opened their market in Brazil much later than peers from Europe, the U.S., Japan and South Korea, said a refrigerator salesperson at a shopping hall in Rio de Janeiro.
As such, Chinese companies have taken measures to advertise overseas, such as inviting celebrities to be spokesmen and building joint ventures with local companies for win-win results.
Many Chinese companies participated in the Expo with the aim of introducing Chinese brands to Brazil and other countries in Latin America, creating more cooperation opportunities for companies from both sides.
The Latin American market is full of prospects, a loudspeaker producer from China told a journalist at the Expo, expressing hope to enter the market.
A general manger of an electronics company from east China's Jiangsu province also has high expectations after attending the Expo, saying that he had established contacts with a number of local distributors.
Thanks to the efforts of Chinese household appliance companies in Brazil, China's exports of household appliances and consumer electronics to Latin America totaled $2 billion in the first quarter of 2018, up 31 per cent year-on-year.
China's home appliance companies will soon find a place in the Latin American market thanks to their advanced technologies and good quality.
(Source_title:Chinese household appliance brands cast hopeful eye to Latin America)